This is Bruce and Phillpa, directors of Chandrakirti Meditation Centre, taken in front of the half built gompa. They run a cleaning company, employing over 90 staff, and have a lot of energy. Bruce races a rally car in his spare time - I should have had a photo of that! It's yellow, and terrifyingly fast. Runs on avaiation fuel.
Phillipa is a herbalist, teaches massage and runs womens groups.
I mean a LOT of energy :-)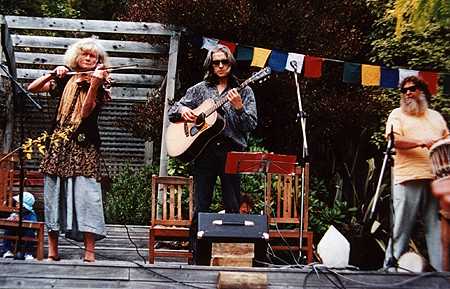 Taken at an open day at the centre, where there was live music all afternoon. So good, these three, I sat with my eyes closed and tears actually ran down the face. Never made a recording, they just like to play. Another fund raising evening, they jammed non stop for around 4 hours, with a few others. Mind melting.
So many styles. When this photo was taken they were playing traditional Albanian folk music, and honestly, my heart really hurt, it was so good, and so ....... well, just too much to express